About This Site

You may have noticed the "Powered by Site Build It!" logo at the bottom of each page on this website and wondered what it was about. Let me tell you my story.
My name is Andrew Low. I am a secondary school teacher by profession but I am also a husband and father who loves his wife and children, and was looking for ways to spend more time with them. In particular, I desired to work from home, with minimal cash outlay and flexible hours. I'm sure there are many of you who resonate with those feelings. However, I had no business experience and didn't know where to start.
Over the years I considered a number of options to fulfil my dream. I knew it would take quite a while to build a business that would earn enough money to become my main source of income. However, most options either required a large capital outlay to start, involved very long hours for many months with no income to become established or were limited in the income they could produce.
In particular I did not want to go into debt or operate a business that relied too much on suppliers or other factors beyond my control. Whatever the business was, it needed to be something I could control and that could provide enough income to support my family, without becoming so much of a burden that it destroyed my dream of spending more time with my family.
This left a computer/internet based business as the main option. We already owned a fairly new computer, so there wouldn't be a need to spend money on that. The first internet option was eBay, which looked promising except that I would need to buy and store products at home, and then ship them via a courier or postal service, leaving me susceptible to suppliers and the cost of postage to be added to any sales. It seemed the best option would be to sell electronic goods such as ebooks or other information sources. Unfortunately, I had no idea how to begin.
Then my wife suggested Site Build It! as something to look into. She had seen that many of the top websites on a whole range of topics included either the Site Build It! (SBI!) logo or a page which promoted it. We investigated the SBI! website and saw dozens of satisfied customers who had short videos praising it, like the ones shown here.
Although I was initially sceptical over the hype and promises, I was also excited since it addressed all the issues I had been struggling with in starting an internet business:

I could work from home
Since it was internet based, I could work from any internet-connected computer, even when I was on vacation
I could work at my own pace: full-time, part-time, weekends or evenings
I didn't need any technical knowledge of computers or websites, marketing, programming, etc.
To cut a long story short, in November 2007 I purchased my first SBI! subscription and started on the process of becoming an website owner/builder. The series of ten Action Guides helped me understand the whole process from first steps to earning an income. It took about eight months to research and register my website (I'm a slow worker!) and another few months to get it up and running.
During that time, I discovered that SBI! provides excellent value for money, especially for a newbie. Even setting up a basic website on your own would cost about US$130 a year, and that does not include any guidance in researching and designing a site, let alone the technical help in actually building one. Any extras, such as an ezine/newsletter (which is highly recommended for a website but would cost an extra US$240 a year to publish) are already included in SBI!'s annual subscription. The online support and forums help round out the information in the Action Guides. With a total value well over $3000, it makes the SBI! subscription incredible value at only US$299* per annum. And, with over 40,000 SBI! websites on the internet, obviously a lot of other people agree!
So, would I recommend SBI? Definitely!! As well as the benefits listed above, my website is an asset that is increasing in value and can be passed on to my children as an inheritance. It has the potential to earn a healthy profit through multiple income streams and can be expanded into different websites, producing even more income.
If this sounds like something you would like to investigate further, why not check out Site Build It! for yourself?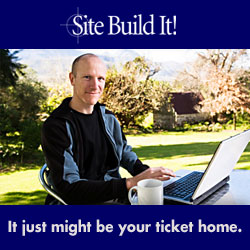 *The annual charge for SBI! at the time of publication is US$299 but is subject to change without notification.
---
Sign up for our FREE newsletter and receive
a downloadable copy of the 44 page ebook
"The Family Guide to Dice Games"!
---

Link from our About This Site page to our Home page

Sitemap

---
Thank you for visiting our website!